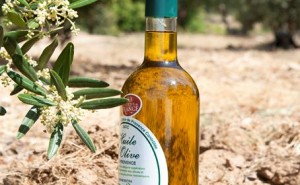 Olive course by Mr. Olive tree in Sainte – Maxime ( 20min Vidauban ) 
First oil was just something you cooked in, now it is becoming  " bon ton " to discuss it like wine. Near Sainte Maxime is one of the largest olive groves of the Var , that of Thierry Olivier . He will tell you everything a modern man needs to know about olive oil , also called liquid gold .
Thierry provides free tours from 1st April to late September

Naam : Domaine de la Pierre Plantée
Adresse : Route du Muy, Sainte Maxime (20 min van Vidauban)
http://www.domainelapierreplantee.com/
Phone : +33 (4) 94 96 65 65
Spicy head butt and stuffed vegetables in Collobrières ( 35 min Vidauban )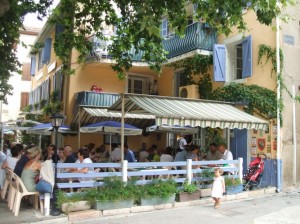 Want the Provence to taste good, then go to one of the many authentic restaurants .

One of the best is " La Petite Fontaine " under the chestnut trees of the village Collobrières . You can experience the Provencal cuisine at its best :
Daube : braised meat in wine
Pissaladière : onion / anchovy tart
Farcis de petits legumes : stuffed vegetables

Another specialty is the truffle that you  can find  in the shops between mid-October and April
They will not ask you what you want to drink , just your colour  . You pay your drinks from the bottle which obviously includes a Cotes de Provence and after the coffee you get a spicy headbutt a " marque de provence " pour rincer  la  tasse ( cup rinsing )

Name : La petite fontaine
Adresse : 6 Place Republique – 83610 Collobrieres
Phone : +33 (0)494 480012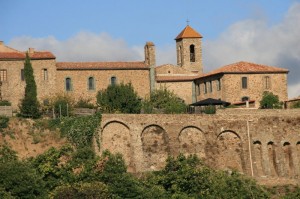 Combine this tour with a chestnut walk around the monastery
The " Massif des Maures " is a succession of hills and chestnut trees . In the middle lies the charming main village of chestnuts : Collobrières . Just ahead is one of the most impressive monasteries of the region.
Begin the walk in the parking lot , with the monastery on your left . At the fork , take the path to the right and then continue to the right. After an hour , take the five leap towards ' Coulette . Take the path down ( Chartreuse 1 km ) . BEAUTIFUL ! !

Another typical Provencal restaurant, near Vidauban in the town of La Motte 's Restaurant De La Maurette . ( 10min Vidauban )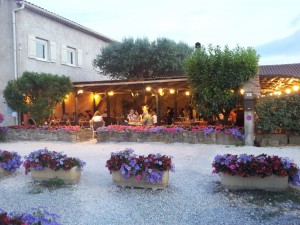 Domaine de La Maurette " . A la carte menus available but also of € 25 and € 35 are available . Be surprised by the burger " MONSTER " …..

Name : Restaurant de la Maurette
Adresse : Route de Callas – 83920 La Motte
Phone : +33 (0)4 94 45 92 82 – http://restaurant-lamaurette.com/
 Go and eat " avec les pieds dans le sable " ( 20 min Vidauban )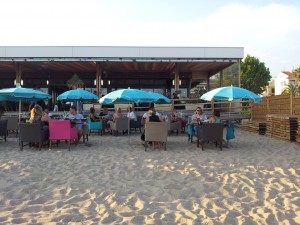 Would you like to have a nice dinner with your feet in the sand , as in food on the beach , then you should definitely  try 'les sablettes' in Frejus ( 20 minutes from Vidauban )
One of the many specialties are the " Moules à la Roquefort " Mussels with Roquefort cheese … delicious!!!.
Reservation required in peak season . Do not forget to reserve a table " avec les pieds dans le sable "

Name : Les Sablettes
Adresse: Boulevard de la Libération, 83600 Fréjus, Frankrijk
Phone:+33 4 94 51 27 54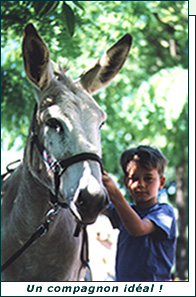 Roaming with donkeys and wine tasting in Taradeau ( 10 min Vidauban )

Excursion through the beautiful vineyards of the Var with a donkey , a bottle of wine and the associated winery. That can in Taradeau . The donkeys carry the children and baskets with wine and Provencal specialties . Look , taste and smell : Provence at its best !
The host , Jose Garcia , adjusts the trail to desired , longer steeper trails for hikers sporting or shorter quieter routes for children and older people .
The trail crosses the rolling countryside between Taradeau and Les Arcs and starts at nine o'clock . The first stop is at 10 am for all – how could it be otherwise , the first glass of white wine of the day with " pain d' épices " ( gingerbread ) by Jose yourself . The second taste – and wine round takes place at Monsieur Bertin in the garden under the plane trees of a beautiful authentic Provencal Mass : Ferme de Belveset . Here you can buy goat cheese. To make the picture even more idyllic , there are some kids let loose among the picnickers .
Then the walk continues after lunch and wait , there are some nice surprises …

Phone José Garcia : 0033 4 94 73 52 34 of  0033 6 03 89 92 22 – http://anon.free.fr/
Day hike from 9:00 to 18:00 including picnic or evening walk ( 17:00 to 21:30 ) with wine , cheese , honey and nougat .
Price : € 25 per day ( for children 20 € )