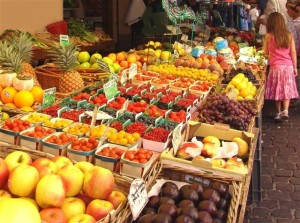 • Shops and markets in the area
• The Provence Second Golden City
• The South and the Mediterranean
• The North and " Les Gorges du Verdon "
• To the rhythm of Provence
Shops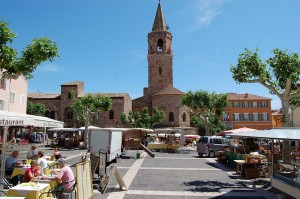 The centre of Vidauban is just 800 meters from the domain and has a lovely market square with some nice restaurants . During high season the baker sells his bread and baguettes on the domain itself. There is also a bakery near the entrance of the domain and a pizzeria. A small supermarket is within walking distance as well as bakeries, pharmacies and newsagents.

A few kilometres from the domain, you can do your shopping for the whole week in a Hyper U (such as Carrefour, Auchan,)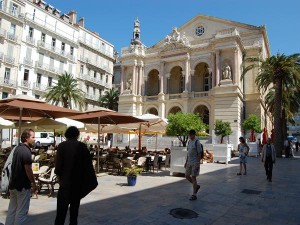 Markets during the season
the weekly market in Vidauban is highly recommended. The Provencal market in Le Muy and Lorgues are very nice and well worth it. There is a daily market in Nice, Draguignan and Saint Raphael.
In the heart of Provence, also called the " Second Golden City ",  you will discover a foreign land, rich in history
The park " Le Clos des Oliviers " is peacefully set among vineyards and lavender fields. Vidauban is 7 km from Les Arcs sur Argens and 17 km from the town of Draguignan . The village is protected by the chapel of Ste Brigitte, standing on top of a mountain. The view from the top is worth it .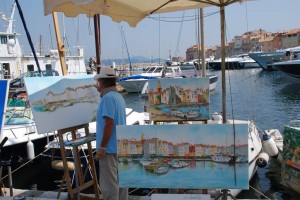 The South and the Mediterranean
the department of  Le Var , with  Toulon as its capital , is located in the south of France on the Mediterranean Sea.
The Var has three major mountain ranges . In the south of the Var you will find yourself in a landscape with many flower nurseries , vineyards and orchards .
Further south you reach the coast , the Côte d' Azur , it is very popular and touristy. Discover the most beautiful towns and villages ( Frejus, Saint -Raphael , Toulon , Grasse , Sainte – Maxime , Saint – Tropez , Nice , Cannes , Gassin , Ramatuelle , La Garde Freinet … ) .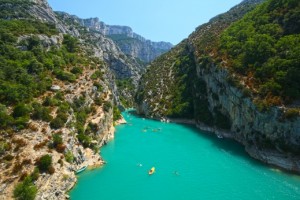 North and "Les Gorges du Verdon" :
In 1997, the Verdon Regional Natural Park was established , the area is known by the Gorges du Verdon and its beautiful canyons and vistas . The Verdon Gorge is the largest gorge in Europe and second largest in the world . It is not for nothing that they call it  the Grand Canyon of Europe .
The canyon ends in the lake of Sainte – Croix – du- Verdon , Lac de Sainte – Croix . The lake is 14 km long and 2 km wide . Along the lake are booths where you can rent water canoes , kayaks , pedal boats and motorboats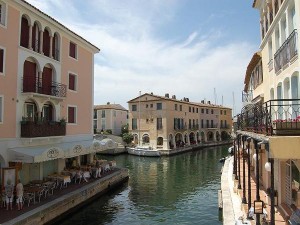 Enjoy your stay by the rhythm of Provence and celebrate your holiday in Provence !

Discover the culture , nature , museums , the most beautiful villages and attractions in Provence – Alpes- Côte d' Azur region. Enjoy nature , the weather and the markets . Taste the specialties and experience life in this beautiful part of Southern France .
If you like good food , or like to enjoy a glass of rosé on a sunny terrace, well… the Provence is the right place . The hundreds of markets are never short of fruits and vegetables . Visit the wineries and olive oil producers.
In the Provencal cuisine many indigenous herbs are used . What are these? Garlic is one of the most common , followed by : thyme , basil , rosemary , savoury, bay leaf , etc.
Provence is one of the most extensive and oldest wine regions of France . The slopes , various types of soil and sun are ideal for wine grape .
The people have the need to properly perform their jobs. Some open their workshops to the curious for educational meetings . Difficult to leave without suitcases filled with pottery , ceramics , fabrics , soap …